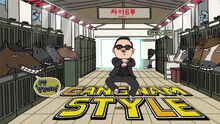 Gangnam Style was a song by South Korean musical artist PSY.
The music video of Gangnam Style featured a dance move which was based on the dance the Dancing Horse did whenever it caused destruction around the world.
Gangnam Style was uploaded on YouTube on July 15, 2012. In the following months, it became a popular song, and gained lots of views on YouTube.
Two eight-graders at Niittymetsä school, Alina Koskinen and Tilda Auranen, had very conflicting opinions on the song. Alina was a big fan of the song while Tilda disliked it, leading to the end of their seven-year friendship at some point between October 20 and 28.
Due to the popular 2012 end of the world prediction and the view rate of the video, it was predicted that the song's music video getting a billion views on December 21. A possibly fake Nostradamus prediction claimed the end would come from the calm morning when the number of circles of a dancing horse was nine, referring to the billion views of Gangnam Style (the horse dance).
On Wednesday, October 31, Gangnam Style was one of the songs played at the Niittymetsä school Halloween party. The school building even had lights that changed in sync with the music.
On November 24, it overtook Baby by Justin Bieber and became the most watched video on YouTube. On December 21, it became the first YouTube video to reach a billion views (but the world didn't end). In 2014, it became the first video to hit 2 billion. However, in 2017, it lost its spot as the most watched video to See You Again, which later lost its position to Despacito.
Community content is available under
CC-BY-SA
unless otherwise noted.